Whether you are a performer or an attendee, the Fine Arts Theatre is an ideal venue for hosting a wide range of events, including cultural performances, concerts, film screenings, conferences, and seminars. Its versatile layout can accommodate different seating arrangements and staging setups, making it a highly flexible space that can be customized to suit your specific requirements. Whatever your event may be, the Fine Arts Theatre is sure to impress and create a memorable experience for everyone involved.
This visual and performing arts facility provides multi-function use for Olds High School students, Olds College students and the strong arts community of Central Alberta. The fully functioning theatre contains a state-of-the art sound system, 73 computerized stage lights on an automated dimming system, and the latest design of patron seating that blends visibility with comfort. 
Facility Seating Map
The facility offers a 390 seat theatre uniquely designed to serve a multitude of functions, from elaborate dinner theatre to informal community jam sessions, or wedding receptions to professional drama productions. A large portion of the theatre seating can be pulled back to fit discreetly against the wall, immediately changing the feel and function of the space.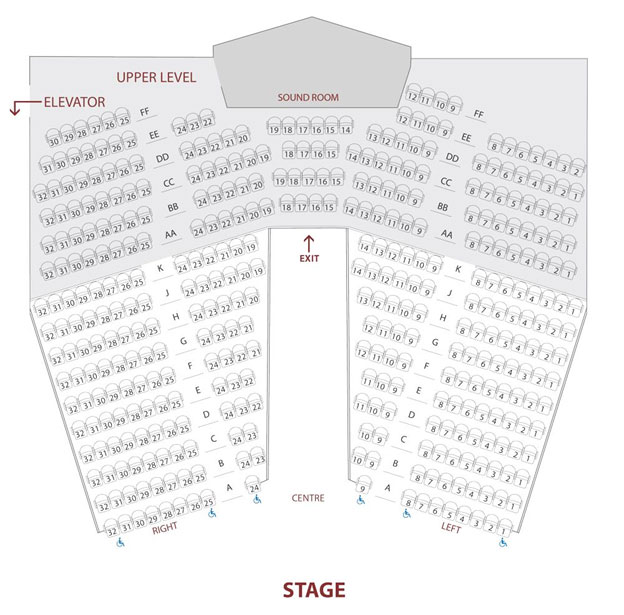 Facility Rental Rates
Prices subject to change* 
Venue
Monday-Thursday
Additional per hour
Friday-Sunday
Additional per hour
Theatre - Rehearsal
(4 hr block)
$450
n/a
$550
$75
Theatre - Performance
(8 hr block)
$850
n/a
$950 
$75
Foyer only (4 hr block)
$250
$75
$250
$75
Band or Cosmo Room each (incl foyer)
$150
$75
$200
$75
Lighting & Sound Tech (mandatory)(1-8 hrs)
$300
$n/a
$300
$75
SoCan Music Fee Dancing (per day)
$132.39
 
$132.39
SoCan Music Fee No Dancing (per day)
$66.19
 
$66.19
ReSound Music Fee Dancing (per day)
$55.52
 
$55.52
ReSound Music Fee No Dancing (per day)
$27.66
 
$27.66
Music fees are required for all public events where copyrighted music will be played. If a valid Entandem (SoCan and/or ReSound) membership number is not provided the above music fees will be charged as applicable.